Clover Factory Shop in SA| Get the Best Deals on Dairy Products
Know more about clover factory shops in Queensburgh, City Deep, and Port Elizabeth! Make a smart choice by choosing Clover's dairy products. 
Be informed of the operating hours of the shops below.
Get their contact number for price inquiries and product availability before visiting the shops
Updated the address details of each shop so you can plan ahead your routes.
Clover is arguably the best company in South Africa when it comes to offering organic, healthy, and top-quality dairy products. Hence, it is obvious how this company has numerous Clover factory shops and affiliated factory shops that offer Clover products distributed on the different parts of South Africa. With that, Clover Factory Shops can be now found not only in Johannesburg (City Deep) but also in Eastern Cape (Port Elizabeth) and Durban (Queensburgh).
Other than having exceptional and multi-awarded products (to which will be mentioned later), Clover is also renowned for its lasting freshness coupled with superior quality testing. Clover is also transparent with how it resources its dairy products- from trusted heritage and genuinely animal-friendly environment.
What's New with Clover?
Recently, Clover has been doing extensive innovations in both its branding and manufacturing operations. Specifically, one of the remarkable changes they have incorporated on their branding was transforming the packaging design of one of their best-selling products, Clover Fresh Milk, dominated by the color of blue. This Clover's marketing strategy is new to the industry of dairy products as such color is not usually used particularly for the said product. However, Clover did it anyway. So far, it has resulted in beneficial consequences.
To extensively provide Clover products into consumers of all class and throughout South Africa, different Clover factory shops are offering just the same quality of organic and healthy dairy products.
Aspiring to help you out—assuming that you're a fan of Clover and its top of the shelf products, this article covers the complete information you need to find the Clover factory shop nearest you. Have fun shopping, folks!
Clover Factory Shop in City Deep, Johannesburg
Address: 19-35 Fortune St, City Deep, Johannesburg, 2049, South Africa
Operating Hours:
Mon-Fri 08:00–16:30
Sat-Sun Closed
Contact Details: +27 10 417 0068
Clover Factory Shop in Port Elizabeth, Eastern Cape
Address: 36 Kurland Rd, Redhouse, Port Elizabeth, 6001, South Africa
Operating Hours:
Mon-Fri 08:00–16:30
Sat-Sun Closed · 
Contact Details: +27 41 463 2439
Clover Factory Shop inQueensburgh, Durban
Address: 100 Richmond Road, Queensburgh, 4064, South Africa
Operating Hours:
Mon-Fri 08:00–16:30
Sat-Sun Closed ·
Contact Details: +27 10 417 0089
To see their complete product list, you can visit their official site at https://www.clover.co.za/
Most Recent Awards Received by Clover
Disclaimer: This section is completely sourced from the News updates found on the official website of the Clover company. 
Sunday Times Top Brands
Top 10 overall favorite brand and winner in the Milk and fruit juice categories 2014, 2015, 2016.
Ask Afrika Icon Brands
Clover Fresh Milk and Clover Krush achieved icon brand status in 2017. Also, a 7 Category winner in 2017.
Trusted Brand
Winner 2014, 2015 in the Dairy category.
SA Dairy Championship
6 x 1st prizes 2017 on Cheese, Milk, Butter, and Flavoured milk categories
Qualité Awards (SA Cheese)
Winner 2017
Product of the Year Award
Winner 2016| Tropika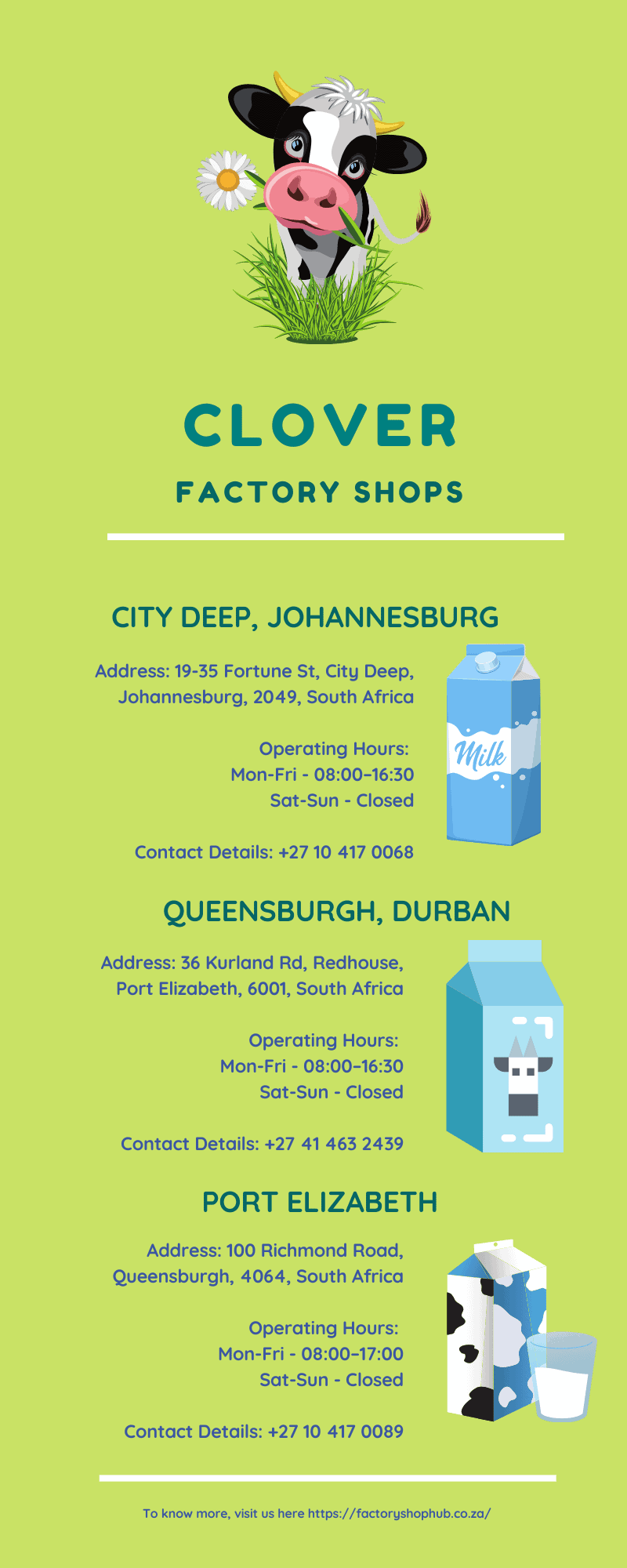 To find more factory shop in Johannesburg, Durban, and Port Elizabeth, visit us here.