Find Polo Factory Shop in Cape Town and Johannesburg | Cheap Polo Shirts & Accessories
Find the factory shop with Polo clothing and accessories for men, women, and children in Cape Town. Buy in bulk premium quality and timeless classics for an affordable price. 
Disclaimer: The factory shop included here may or may not be directly affiliated with the official Polo company. What's certain is that they are offering cheap products that include those from the Polo brand. 
After decades of continuous innovation, Polo impressively caters to the fashion needs of its target customers with the help of the best specialist designers and planners in the industry. Fulfilling the thoroughly changing trends in clothing and style, Polo delivers seasonal collections of menswear, womenswear, kid's clothing, as well as accessories for everyone.
Although Polo is primarily sold in its flagship stores, there are also independent stores such as outlet or factory shops that may be offering Polo products. If you are in Cape Town and is an avid fan or an all-time lover of Polo items, then this blog is for you!
Also, if in case you want to learn more about Polo products and Polo factory shops in general, here's a reading we recommend for you.  
Now, let's get down to business. This is where to find the Polo factory shops in Cape Town and how you can contact them –  here you go! 
Polo Factory Shop in Cape Town and Johannesburg
Get the best deals from Polo Factory Shops in Cape Town here! 
Easywear Clothing Factory Shop- Cape Town
Address: Cnr. Nourse Ave & Bofors Cir, Epping Ind 2, Cape Town, 7460, South Africa
Operating Hours: 
Mon-Fri 09:00–17:00
Sat-Sun Closed
Contact information: 078 190 4955 (Pending for confirmation yet)
If you aren't satisfied with the Polo items you can find at Easywear Clothing Factory Shop and in case you're able to transport stuff from Johannesburg to Cape Town, then here' s another Polo factory shop option for you! 
International Brands Outlet Sandton- Johannesburg
Address: Cnr. Eastern Services and Impala road, Eastgate Ext 8, Sandton, Johannesburg, South Africa
Operating Hours: 
Mon-Fri 09:00–16:30
Sat-Sun Closed
(Operating hours may be subject to change)
Contact information: 0112587614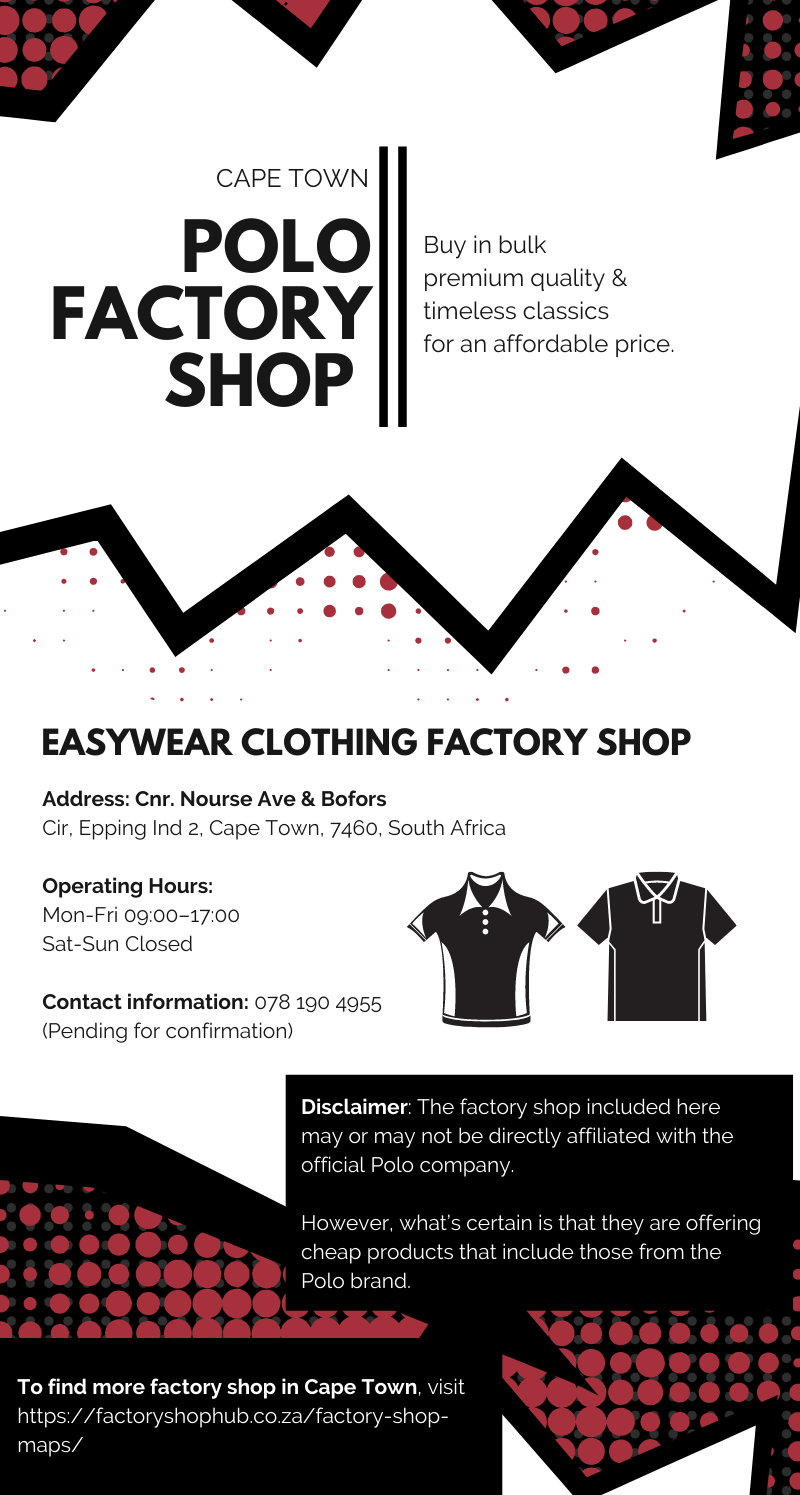 To learn more about the products you can find from Polo and Polo Factory Shops, here you go:   
Men's Clothing
Clothing collection for men includes both the classic and seasonal items. Polo menswear includes signature men's shirts, Polo golfers, jeans, chinos, and sweatpants. All of these items are designed to cater to men's different tastes. 
Women's Clothing
Premium quality, ranging from casual to sleek style, Polo offers classic variation for women of their renowned staples—golfers t-shirts and dresses, as well as denim, dresses, and sweaters.
Kids' Apparel
Here, you can find comfy yet stylish clothing items that your children will adore. 
Men's Accessories
Included in here are classically-styled sunglasses, wallets, cap, belts, and cufflinks. 
Women's Accessories
Polo accessories for women include handbags, purses, and sunglasses. These items are styled for varied occasions, designed for chic yet classy aesthetics. 
If you're curious about other factory shops located in Cape Town, you should visit this factory shop map.